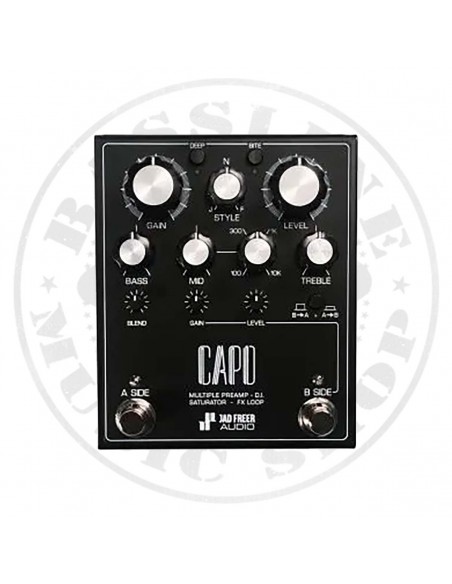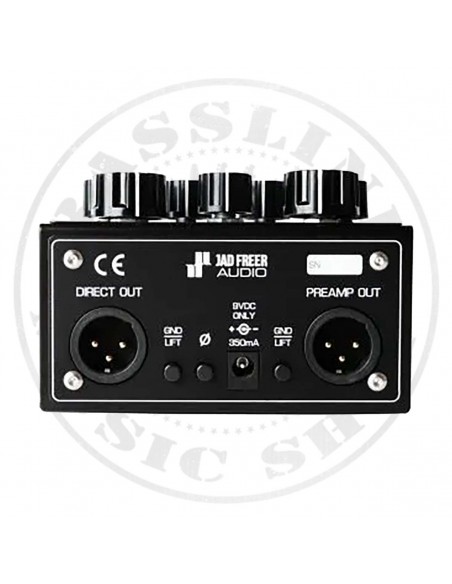 Jad Freer Audio CAPO Multiple Preamp DI/preamp pedal for electric bass. 4 different preamp circuit, distortion, DI out.
CAPO is the new Jad Freer Audio bass preamp, or Multiple Preamp – DI – Saturator – FX Loop, as we like to call it . From studio-grade clean sounds up to heavy saturations, passing through endless overdrive flavors with amp-like dynamics and harmonic content, while keeping your instrument's natural low-end presence. More than just a pedal, a real "studio-in-a-box".
Four different preamps in a single box and endless routing possibilities in a pedalboard-friendly format. A sound with very complex texture and natural feel. An engine that is designed to be the center of your pedalboard universe.
A SIDE
The core of the machine, based on three very different preamps that can be used in parallel to achieve unheard-of and unique sounds.
The base of the A-Side is a clean high impedance preamp, with fixed gain and lots of headroom; it improves the tone of the instrument, enhancing its character without altering it. Two high dynamic range saturators (J, F) can then be mixed to the clean preamp using the BLEND control. The mix ratio between J and F can be changed as well using the STYLE control: in central position N you get the neutral balance between them and, at the same time, the range of sounds that defines the A-Side tone the most.
No clipping diodes are used in both saturators, providing a dynamic feeling comparable to a real amplifier… not just an ordinary stompbox! J and F share GAIN and LEVEL controls and both have a lot of clean headroom before saturation, while they differ strongly in their sonic focus.
J Saturator

: huge bottom, aggressive highs that brings the note attack upfront in the mix

F Saturator

: sound focused on mid frequencies, more vintage inspired.
The concept of this side of CAPO is to mix a flat response sound with two complementary amp-like tones (running in parallel and mixed as well), to obtain an extremely complex and articulated texture while keeping the maximum frequency and dynamic response.
A three band eq allows you to further sculpt the blended sound you create:
BASS: ±12dB@80Hz (shelving)
Semi-parametric MID: ±9dB@100Hz-10KHz (band pass)
HIGH: ±12dB@4KHz (shelving)
DEEP and BITE switches provide a perfectly tailored bottom end boost and just the right enhance of string attack.
B SIDE
Tube-like tone preamp.
Side B is a linear response FET preamp with dedicated volume and gain controls. It reminiscent of some classic tube preamps and has a dynamic range that goes from clean to various saturation stages with a smooth, natural response.
It can be used as a stand-alone preamp as an alternative to the A-Side, or it can work in series with it choosing the order with the PRE / POST switch:
PRE

 allows it to be used as a gain boost, to push the saturation of the A side to higher levels while keeping definition and dynamics

POST

 allows it to be used either as a simple volume boost available at your feet, or as a preamp base to build your own sound, then using the A-side as an additional gain stage or clean EQ.
four preamps 

packed in a pedalboard friendly format
from crystal cleans to high saturations and infinite shades of overdrive

A SIDE 

, consisting of a clean preamp and two high dynamics saturators (

 J 

, 

F 

)
Active 3-band EQ and DEEP and BITE buttons to further sculpt the sound

B SIDE 

, a linear FET preamp with a soft and warm character, usable both PRE and POST

two D.I. outputs 

: DIRECT OUT and PREAMP OUT
phase inversion on DIRECT OUT to realign the phase of balanced signals

LPF 

to eliminate any unpleasant frequencies generated at high gain levels
fx loop PRE and fx loop POST to use pedals before and / or after the CAPO and include their intervention also in the D.I.output